What are some Top Causes of Auto Accidents?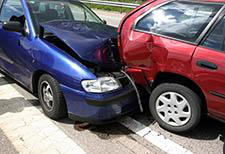 Anytime you hit the road you put yourself at risk of being involved in an accident. It may not be your fault, but they can happen, and they do all too often. It is unfortunate because it should be relatively easy to avoid accidents as all it takes is paying attention and being smart. The following are some of the most common causes of auto accidents. It is important to be aware of these so you can be best prepared to avoid them.
Distracted Driving
When most people think of distracted driving cell phones and other screens generally come to mind. While calling and texting is likely at the top of the causes of distracted driving these aren't the only issues. Even things such as picking up loose trash on the floor or simply daydreaming are real problems.
Impaired Driving
Drinking alcohol and driving or other drugs and driving are serious issues. These substances alter the way your brain works, making it very unsafe to operate a vehicle. If you have partook in the use of any mind altering substances, including some prescription drugs, be sure to call a taxi if you want a safe ride.
Pets
People love to bring their dogs in the car and while it is fine for the most part, Fido doesn't always know to stay off your lap. If you travel with a pet be sure they don't have the ability to bother you while you're behind the wheel. Consider using a doggy gate to restrain your dog to the rear of the car.
High Speeds
Speed limits exist for a reason, to keep you safe. Driving at excessive speeds makes it more difficult to control your car or truck. Simply follow the speed limits for a more safe travel experience.
Sleep Deprivation
If you are ever really feeling tired behind the wheel be sure to pull over as soon as it safe and legal to do so. You may be surprised at how easy it is to actually doze off when operating a motor vehicle.

While you can't avoid all accidents you can ensure you're not at fault for any. If you do end up in a wreck and need auto body repair in Columbus, OH head to Keen's Body Shop. We would be more than happy to provide you with a free estimate for collision repair for any make and model of vehicle. Give us a call at (614) 420-2404 to schedule professional collision repair in Columbus today.