5 Common Causes of Car Scratches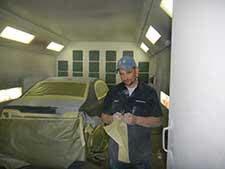 If you walk out to your car and see that it has been significantly scratched, then you may understandably feel very frustrated. The source of car scratches isn't always obvious. From kicked-up rocks to automatic car washes, there are several potential culprits for scratching. When you do notice scratches on your paneling, you'll want to be sure to bring your vehicle to a shop that specializes in such repairs. Here's a look at five common causes of car scratches.
Improper Washing/Waxing
When you wash your vehicle, you'll want to be mindful of your washing materials. If you use just any old cloth, it could actually be abrasive and scratch the paint. It's best to use synthetic microfiber towers that are specifically intended for such tasks. Also, you'll want to wash with automotive soaps instead of regular old dish soap. And when you wax, you can reduce your risk of scratching the paint by making sure that there is no debris on the car.
Automatic Car Washes
The brushes in automatic car washes can accrue dirt from previous vehicles that have passed through. If this dirt isn't fully rinsed off before you enter, then it can potentially scratch your paint as the brushes go to work on your paneling.
Rocks
There's a good chance that at some point a vehicle in front of you has sent a rock flying in your direction. In some instances, these kicked-up rocks will scratch the paint. While you can't always avoid this hazard, you might reduce your risk by trying to not drive behind big commercial trucks.
Rubbing
If you're wearing buttons or a studded belt, you could actually scratch your paint by simply leaning against your paneling and then shifting your weight.
Malicious Behavior
In most cases, it's obvious when a car has been "keyed." These scratches are often more difficult to repair because they tend to be long and deep.

If you need scratch repair, be sure to visit a reputable body shop. For scratch repair in Columbus, OH, contact the experts at Keen's Body Shop at (614) 420-2404. You can click here to use our simple collision damage online estimate tool!