What are the different types of rock chips?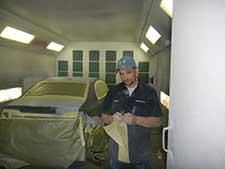 If windshield rock chips aren't promptly repaired, they can grow to the extent that full windshield replacement is needed. Typically, a rock chip can be easily fixed if it is smaller than a quarter. But if it grows much larger, then you may have to get your windshield replaced. When choosing where to get your rock chip repaired, it's best to bring your vehicle to a reputable shop instead of a roadside pop-up tent. This way, you can trust that the repairs will be done by a professional who you can easily hold accountable for the quality of the work. Here's a look at five tips on identifying the different types of rock chips.
Bullseye Break
The bullseye break is identifiable by its rings that circle outward from a central point of impact. This is one of the easier rock chips to fix.
Half-Moon Chip
This chip's shape occurs from an object striking it at an awkward sideways trajectory. This shape makes the half-moon one of the trickier chips to repair.
Star Chip
Star chips have lines that shoot outward from the impact point. This type of chip is especially likely to grow larger if it is left unrepaired, which could ultimately necessitate windshield replacement.
Combo Rock Chip
If the rock chip has features from more than one of the above-listed types, then it is considered a combo chip. The difficulty of repairing these chips can vary on a case-by-case basis.
Windshield Crack
Generally, if a windshield crack is more than five inches long, then it cannot be repaired and the windshield will need to be replaced.

If you need rock chip repair or windshield replacement, be sure to bring your vehicle to a reputable body shop. For auto glass repair and replacement in Columbus, OH, contact the experts at Keen's Body Shop at (614) 420-2404. Keen's Body Shop also specializes in commercial truck collision repair in Columbus. Feel free to give Keen's Body Shop a call today to schedule an appointment for any of your auto body needs!