What is Frame Repair?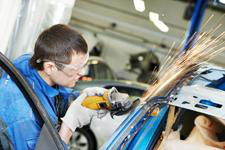 The frame is essentially the backbone of a vehicle, supporting everything from the body to the engine and all the small and big parts in between. Vehicle frames are engineered to act in a very precise manner, so any damage to a frame, even in the slightest amount, can result in an unsafe vehicle and make driving a vehicle quite difficult. Recent studies show that in nearly 50 percent of all accidents in the US some form of frame damage occurs. Even in low speed impacts frame damage may happen. Following an accident, even if no damage is visible, always have a professional auto body shop take a peek to ensure the frame has not been compromised.
What happens if frame damage occurs?
A damaged frame can result in several issues for a car or truck. The worst possibility is the chance the damaged frame could eventually crack or snap, resulting in another accident. However other serious issues you may experience include weight distribution problems that cause your vehicle to be difficult to control, increased tire wear and alignment issues. To ensure that your car is safe to drive following an accident and is not at risk of any of the above problems or others be sure to let a collision repair technician take a peek at the frame.
What is frame repair?
Frame repair is fairly self explanatory, as it is the process of restoring your frame to its factory specifications. If a frame is bent the metal is manipulated, making some spots softer and others much more hard, which results in the weight distribution issues. Frame repair needs to be completed to ensure that the vehicle's ride is rigid and that it can properly support the weight of the vehicle's body and other parts.
How is frame repair done?
Frame straightening is completed using a specially designed machine that hydraulically rams and pulls the metal frame with upwards of 20,000 pounds of force. This unique tool is computer assisted and ensures that a frame is restored to within a minute fraction of its original specifications.

Once the frame is restored to its factory condition other auto body repair can be completed, as parts would not fit correctly otherwise. The restoration of the frame must also be done to eliminate any potential control issues. If you've been involved in an auto accident in Columbus head to Keen's Body Shop. Our full service collision and frame repair shop is staffed by experts who can conduct any service necessary to get your car back on the road. Give us a call at (614) 420-2404 to schedule an appointment or request an estimate for collision repair in Columbus.