Common Ways that Auto Body Repair Is Completed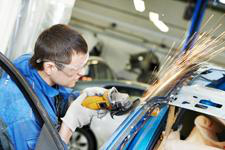 As you drive to work and back each day, there's always a degree of risk that you'll be involved in an accident that requires auto body repair. When auto body damage occurs, technicians turn to a variety of repair techniques to return the vehicle to its pre-accident condition. If you've been in an accident, you'll want to entrust the repairs to a reputable shop that employs technicians who are highly-skilled in modern auto body repair techniques. Here's a look at five common auto body repair methods.
Auto Body Panel Replacement
In some instances, it makes more financial sense to go ahead and replace the whole part instead of fixing the existing damage. This is often the case with parts such as doors, bumpers, and hoods.
Paintless Dent Removal
For this repair technique, the technician uses a custom set of tools to work out the dent from within the paneling. Through this process, the expensive and time-consuming process of painting can be skipped. This can save you money and get you back behind the wheel sooner. While larger dents don't always qualify for this type of repair, it regularly is a great option for smaller dents.
Sprayless Scratch Repair
To restore your vehicle's finish without painting, the technician may be able to use sprayless scratch repair.
Color Matching/Auto Painting
Following an accident, the repairs often require a seamless paint job to complete the process. Through the use of color matching technology, the vehicle can be returned to its pre-accident appearance without having to repaint the whole vehicle.
Auto Body Filler
For various types of dents, body filler can be used. It is a malleable substance that fills in the damaged area. After it's applied, painting needs to be done.

If you need auto body repair, be sure to bring your vehicle to a reputable shop. For auto body repair in Columbus, OH, contact the experts at Keen's Body Shop at (614) 420-2404. Keen's Body Shop also specializes in semi truck collision repair in Columbus, OH. Feel free to give Keen's Body Shop a call today to schedule an appointment for any of your vehicle's auto body needs!