Simple Ways to Prevent Paint Scratches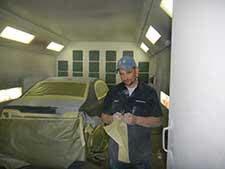 If you have recently purchased a car or just had your reliable old steed repainted you most likely want to do your very best in order to protect its new finish. While it may be dang near impossible to hide your daily driver from every potential incident that could cause a scratch there are several things you can do to ensure your vehicle's finish looks great for years to come. Here are four tips to reduce your chances of paint scratches.
Careful Parking
Parking lots are dangerous places for vehicles. In order to reduce your chances of ending up with door dings or shopping cart scratches you may have to park a bit further from the entrance of the place you're going. Try parking away from other cars, and if possible in a corner spot. However, never double park, as this is rude and in many places illegal and may lead to your car getting towed.
Don't Dry Wipe
If your car has become covered in dirt or dust never use a dry cloth to wipe it away. Doing so can cause the debris to be rubbed into the vehicle's paint, causing tiny scratches that will be very visible. With that in mind, always remember this last tip.
Proper Washing Techniques
In order to protect your vehicle from harmful debris be sure you regularly wash it using industry approved washing materials. Use plenty of water to rinse the vehicle before ever laying a hand (or soft washing cloth or mitt) on the vehicle in order to remove as much loose debris as possible. After a good wash be sure to apply wax for extra protection and to give your vehicle a great shine!
Avoid Brush
One of the most common causes of light vehicle scratches is caused by overgrowth on the roadway. If you end up driving on a narrow street with overgrown bushes that stick out into the lane do your best to stay as centered as possible, or avoid the road altogether. If you must travel down this particular roadway be sure to drive slowly in order to minimize the chances of damage done by the bushes.

Even the most careful of drivers are subject to having their vehicles dinged, dented and scratched. Luckily there are places you can take your car to have them repaired. If you need auto body repair in Columbus, OH, reach out to Keen's Body Shop. We provide expert auto body repair for all makes and models and types of damage, both major and minor. To request an estimate for auto body repair in Columbus call (614) 420-2404 today.