Best Tips to Avoid Auto Collisions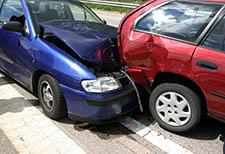 Almost every time you hit the road you're likely to witness drivers fly through red lights, being constantly distracted by cell phones, merge without peeking over their shoulder or complete numerous other inexplicable and dangerous driving maneuvers. As the one behind the wheel it is your duty to be alert and cautious about all that occurs around you while operating any car or truck. While it is downright impossible to avoid all collisions, by following these simple safety tips you can do your part in keeping the roads a safer place for everyone.
Efficient Braking Power
The absolute most important thing you can do to ensure your vehicle is safe and decreases your chances of causing an accident is ensuring your brakes are in good condition. If you experience any signs of braking trouble such as odd vibrations in the brake pedal, grinding or squealing, vehicle pulling or a soft brake pedal it is necessary to immediately head to an auto repair shop to have the brakes repaired.
Both Hands on the Wheel
Put down the phone, iPad or newspaper. Distracted driving is one of the top causes of automobile collisions in America. Taking your eyes off the road for even a second can change your life and the lives of many other people in your path. Pay attention to where you're going, take care of any impending texts or phone calls before starting your car and stay aware of what you're doing, driving!
Reduce Glare
Glare on the windshield due to the sun is a fairly common accident causer. Invest in a good pair of sunglasses to increase the visibility of the road in front of you on those sunny days, and hey, it doesn't hurt if those shades make you look good! There are also glare reduction sprays, window cleaners and other products that can help with this problem. And don't forget your vehicle is equipped with a sun visor!
Proper Visibility
Cracks or chips in the windshield distort your vision, throwing off your judgement of distances. If your windshield has seen better days it will be a smart decision to invest in a new one. There is a good chance you're legally responsible to anyway, as many cities have ordinances that don't allow for damaged windshields on vehicles.

While you may do your part to be a good driver, there are plenty of other folks out there who don't have the same mentality. If your vehicle has been involved in an accident and requires auto body repair in Columbus, OH, contact the team at Keen's Body Shop. We strive to provide expert collision repair day in and day out for all makes and models. Give us a call at (614) 420-2404 to request an estimate for collision repair in Columbus today.