6 Leading Causes of Car Accidents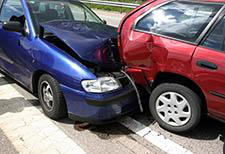 The reality is that every time you jump behind the wheel, you put yourself at risk of an accident. Though you might take all the necessary precautions to avoid an accident, you just can't control others' behavior. Especially in an era where folks can't keep their eyes off their smartphone screens, there are higher incidences of collisions due to distractedness. Here's a look at six common causes of auto accidents.
Distracted Driving
This is the number one cause of car crashes. While texting and web browsing are certainly major hazards, there are also other common culprits, such as makeup application, eating, and screaming children.
Speeding
Speed limits exist for good reason, especially on roads with sharp turns. It's important to remember that at high speeds you have less time to react to any hazards that arise.
Intoxicated Driving
It seems that no matter how harsh the penalties become, some folks will still drive after they've had too many. This is unfortunate and unfair to other drivers and their families, who are just trying to get home safely.
Poor Weather
During periods of heavy rain, visibility can become greatly compromised. And slick roads create their own hazard, especially when drivers don't consistently maintain safe following distances.
Aggressive Driving
Aggressive drivers put others at great risk with unsafe lane changes, excessive speeding, and other reckless roadway behavior.
Night Driving
Reduced visibility makes it harder to see potential hazards, which makes it very important that your headlights function optimally.

If you've been in an accident and need collision repair, be sure to get in touch with a reputable body shop. For auto body repair in Grandview Heights, Bexley, and Columbus, OH, the experts to contact are at Keen's Body Shop at (614) 420-2404. Keen's also specializes in truck & fleet body work in Columbus, OH. You can click here to use our easy collision damage online estimate tool!