Expert Collision Repair in Columbus, OH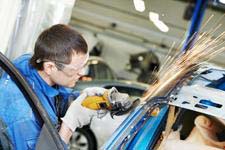 Immediately after you've been in an accident, the top priority is making sure that no one is seriously hurt. Once the scene has been cleared, you'll need to find a shop that you can trust to restore your vehicle to its pre-accident condition. Although your insurance company may suggest a specific shop, it's ultimately up to you to decide where your vehicle is repaired. Here's a look at six types of repair provided by a reputable collision center in Columbus, OH.
Computerized Color Matching
To thoroughly return your vehicle's paint job to its pre-accident look, computerized color matching is very helpful. This will ensure a seamless paint job that will restore your vehicle to its former glory.
Precision Frame Repair
Following a major collision, you'll need your frame to be restored as closely as possible to its original dimensions. This will help to keep you protected in the event of another collision down the road. With computerized measurements, your frame will be made safe to drive once again.
Dent Removal
For small dents, paintless dent repair may be an option. As part of this repair technique, the service tech uses a custom set of tools to work out the dent from inside the paneling. With this method, you can bypass the costly and time-consuming process of painting.
Windshield Replacement in Columbus
In the event that your windshield shattered during a collision, it'll be safest to make sure that the new installation is done by a reputable expert. Proper windshield installation helps to ensure that you're better protected on the roadway.
Body Panel Replacement
After significant body damage, it could actually save time and money to replace a full part, like a door, instead of repairing the existing damage.
Free Collision Repair Estimate in Columbus
When you get an estimate, you should be able to trust its accuracy. Before beginning the repairs, a reputable body shop will fully disclose what exactly it will take to get your vehicle back into great shape.

If you need collision repair, be sure to get in touch with a trusted body shop. For collision repair in Columbus, OH, contact the experts at Keen's Body Shop at (614) 420-2404. Feel free to give Keen's Body Shop a call today to schedule an appointment for any of your vehicle's auto body needs!