Auto Body & Collision Repair in Columbus, OH and Surrounding Areas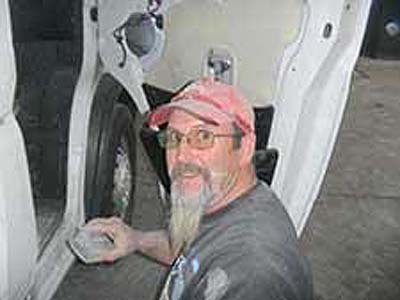 At Keen's Body Shop, our goal is to restore auto body damage to a pre-accident condition, so that you can put dings and dents in the rear-view mirror. Our team of expert technicians work hard to provide the finest quality repairs for all import and domestic vehicles, including classics and commercial fleets. You can rely on us to get your daily driver or commercial fleet vehicle back on the road in a quick and professional manner following any sort of incident, including fender benders, parking lot accidents and high-speed collisions. Give the Keen's location nearest you a call to request a free estimate for professional auto body & collision repair in Columbus Area!
Domestic Auto Body Repair
Foreign Auto Body Repair
Car Dent Repair
Car Ding Repair
Car Scratch Repair
Auto Accident Repair
Collision Insurance Repair

Automotive Paint Repair
Auto Color - Match Painting
Car Paint Retouch
Bumper Repair
Grille Repair
Fender Repair
Ding & Dent Repair
Minor auto body damage is not only unsightly, but it can end up causing other Problems for your vehicle as well, including rust issues and lowering its resale value. It is also important to have minor damage inspected, as hidden damage could occur that Hinders your vehicle's drivability. We employ several methods to remove all unsightly Aesthetic damage from your vehicle.
Bumper & Grille Repair
The technicians at Keen's Body Shop are skilled at performing car bumper repair and car grille repair. Depending on the severity of the damage, our team can replace a bumper or grille or fix the existing component. We will go over your options for fender bender repair, so you understand what the costs are of each service before planning. Our goal is to ensure you are fully satisfied with the results once leaving our nearby auto body shop.
Weather Damage Repair
At Keen's Body Shop we can complete a wide variety of auto body repairs related to damage caused by unfriendly weather. This includes hail damage, which can cause many small dings or broken glass; sun baked paint; or rust issues caused by excessive moisture.
Auto Scratch Repair
The cosmetic damage of a scratch or scratches is something that our expert technicians will be able to completely restore in a quick and affordable manner. Depending on the depth and length of the scratch we may be able to buff it out. Larger, deeper scratches, though, may require the use of more specialized repair techniques. Give us a call to request an estimate for expert scratch repair in Columbus, OH and the surrounding area.
Auto Painting in Columbus, OH Area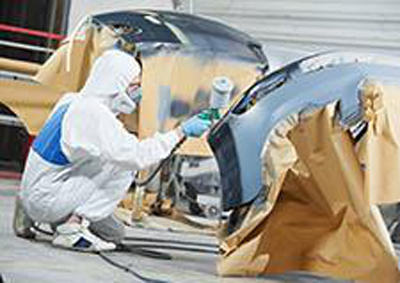 Our shops are equipped with state-of-the-art paint booths that allow for precise spraying of vehicles in a climate-controlled environment to ensure the perfect finish. We utilize color matching technology to match factory paint colors for full re-sprays or spot painting. We are also happy to offer a wide variety of custom re-touch and repair painting options.
Auto Computerized Paint Matching
Following an accident, it is likely that a portion of your vehicle's paint job will have been damaged. After fixing any dings and dents, our team can complete computerized color match auto painting to refinish the impaired area. This service ensures that the car is restored to its pre-accident condition without having to take the time and materials to completely repaint the vehicle. Color match auto painting can ultimately save the vehicle owner time and money on the cost of repairs. Our paint shop continually invests in the latest tools to ensure we are on the forefront of auto painting technology. Give our auto paint facility a call if you think your car is a candidate for this service. We would be happy to provide a free estimate for any of our automotive paint services.
Auto Paint Repair & Re-touch Services
Automotive paint can suffer from several problems. Scratches, fading caused by UV rays, cracking, peeling and other issues can make even a newer car look decades old. If this describes your car, allow our auto paint repair specialists to work their magic and restore your ride. We utilize a variety of techniques to return cars and trucks to pristine condition. No matter the flaw, we have a solution to fix car paint issues.
Auto Collision Repair in Columbus, OH Area
We understand that if you are using our services, things might not be going quite how you planned. Following any accident, you can trust Keen's Body Shop to ensure your car, truck, SUV, van or fleet vehicle is returned to its pre-collision condition. We service vehicles that have been involved in both major and minor wrecks using the latest collision repair technology for frame straightening, glass repair, dent removal and complete auto body restoration. We are here for you when you need us.

No matter what sort of damage your car has suffered we have the tools and knowledge to get it fixed. From the smallest scratches to the deepest dents, Keen's Body & Fleet has your car covered. Give us a call at 1-888-681 Keen (5336) to request a free estimate for auto painting or auto body & Collision repair in Columbus or the neighboring towns.

"I hit a full size tire on 315, found them on google and in just a few minutes they had someone out to pick up my van. It was a great experience, and they do amazing work. Very friendly and professional. Will definitely be using them in the future. Highly recommend."
~

Betty S.