Top Reasons to Get Your Car Painted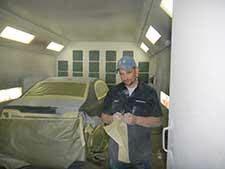 If you have an older vehicle that still drives strongly but is lacking its original shine, then a fresh paint job could be a great way to rejuvenate it. While you could go with its original color, you might instead give it a brand new shade. Or, if you're feeling adventurous, you could opt for a custom paint job that incorporates flames, fades, or racing stripes. For company cars, a custom paint job is a great way to draw attention to your logo. Here's a look at five reasons to get a new paint job for your vehicle.
Rust Prevention
If your vehicle's current paint job was done crudely, then it could be at risk of rusting. In this situation, it's best to bring the vehicle to a reputable shop that can take care of any rust and then do a top-quality paint job.
Return to Factory Condition
Along with a bit of dent repair, a fresh paint job can make your vehicle look like it's fresh from the factory. With this rejuvenated look, there's a good chance that you'll feel renewed excitement about driving your old rig.
Custom Paint Job
In addition to classic custom paint styles like flames and fades, there's also the possibility of coming up with your own original design. If you have a unique vision for a paint scheme, you'll want to make sure the job is executed by a technician who has extensive experience doing custom work.
Color Matching Technology
After a paint job has been damaged in a collision, color matching technology allows the technician to perfectly match the tone and apply the paint to the affected area without having to paint the entire vehicle.
Boost Resale Value
When it comes time to sell, pictures of your vehicle will probably be posted online. If your vehicle's exterior appears dilapidated, then prospective buyers may understandably worry that the mechanical components have also been neglected. But with a sleek paint job and dent-free paneling, it's more likely that your vehicle will garner significant interest, ultimately enabling you to fetch a better payout.

If you need auto painting, be sure to bring your vehicle to a reputable shop. For auto painting in Columbus, OH, contact the experts at Keen's Body Shop at (614) 420-2404. Keen's Body Shop also specializes in truck & fleet body work in Columbus, OH. Feel free to give Keen's Body Shop a call today to schedule an appointment for any of your vehicle's auto body needs!