5 Awesome Custom Paint Jobs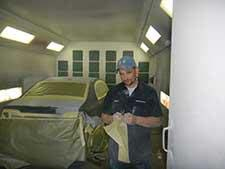 If you're looking for a way to fall in love with your vehicle all over again, then you might consider a custom paint job. Whether you seek eye-catching showiness or subtle elegance, a custom paint job can give your vehicle a unique look that reflects your character. And for commercial fleet vehicles, custom paint jobs can draw attention to your company logo as your trucks travel from job to job. Here's a look at five types of custom paint jobs.
Racing Stripes
For American muscle cars, racing stripes are an excellent way to stand out from the pack. A classic style is to paint two thick stripes down the center length of the car. Mustangs and Camaros are two exemplary models for this paint job.
Flames
Flames are a classic choice for old-school hot rods. Traditional red and orange flames are a great way to go. Another option is "ghost flames," which use cool colors to create a more understated look.
The Fade
With the fade, the tech will seamlessly transition the paint job from one color to another. This can look great when done either front to back or top to bottom.
Metallic Paint
If you love to put your vehicle on display at car shows, then using metallic paint could be a great way to catch the attention of the attendees.
Air Brushing
For your company's fleet vehicles, air brushing can be a great way to create an attention-grabbing logo. A good air brushing job can turn your trucks and vans into mobile company billboards.

If you're in need of auto painting, be sure to get in touch with a reputable body shop. For auto painting in Grandview Heights, Bexley, Obitz, and Columbus, OH, the experts to contact are at Keen's Body Shop at (614) 420-2404. Keen's specializes in truck & fleet body work in Columbus, OH. Feel free to give Keen's Body Shop a call today to request a quote for any of your collision repair or auto painting needs!