How are different types of auto body damage repaired?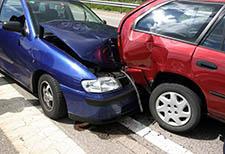 Personal and commercial fleet vehicles can live rough lives. Most cars and trucks spend all their lives outside exposed to the elements, on the road and in parking lots, meaning accidents can happen anywhere at any time. Today's collision repair technology ensures a lot of these damages can be fixed, but there's many techniques to do so. Here are some common types of auto body damages and how they're repaired.
Weather Related Damage
Cars sit outside for years on end, exposed to sun, snow, rain and hail. Excessive moisture, especially when mixed with salted roads, can cause metals to rust, eating holes in the vehicle. On the flip side the sun can fade and damage paint. This sort of paint damage can be repaired by sanding and repainting the affected area. Regarding the rust, it may need to be cut away and replaced with new body panels. Hail can really dent up a vehicle, causes many tiny dings using that will need to be pulled using a paintless dent removal technique.
Paint Scratches
Parking lots are fairly dangerous places for cars and trucks. Careless shoppers may bump your car with a shopping cart or door ding you, leaving you a nice scratch across your vehicle. Depending on the size of the damage it can be repaired using one of a few techniques. Small scratches can often be removed by rubbing it out with a special compound, but a big scratch may need body filler and color matched auto painting.
Dings and Dents
Most dings and dents occurs due to a run in with another vehicle or a stationary object. There are a couple ways a dent can be repaired. If the paint hasn't been damaged, paintless dent removal is an option. Larger dents may require an auto body repair person to drill a small hole and insert a tool into the backside of the dent to pull it out, then fill the whole and spot paint the car. In some cases the best repair is to replace the whole panel.
Collision Damage
Even vehicles traveling at relatively slow speeds can cause major damage to each other if they collide. An accident could result in a bent frame, which decreases the vehicle's structural integrity and hinders driveability. An auto body shop can use a special machine to pull the frame straight and restore the car to factory specifications.

Accidents happen, but they don't have to look like they did. If you need professional auto body repair in Columbus for any personal or fleet vehicle reach out to Keen's Body Shop. Our expert auto body repair technicians service all makes and models and all types of damages. To learn more about our services or to schedule an estimate for collision repair in Columbus give us a call at the location nearest you!