Great Reasons Repaint Your Car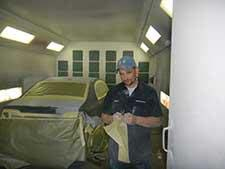 Do you ever walk out the front door of your house, look at your car, and just think "Ugh, that thing is not pretty." A deteriorated paint job, even if there are no dings or dents present, can make an otherwise nice car look like a pile of junk. While it the looks of your car may not be detrimental to your daily commute, it could eventually lead to bigger problems down the road. Let's look at five great reasons to repaint a vehicle.
Cure & prevent rust
Many cars that are suffering from paint issues, such as scratches or minor dings and dents that have damaged the paint, could be facing rust issues if the bare metal is exposed. Repainting a vehicle that has current or potential rust problems can prevent that rust from eating through the metal.
Resale value
If you want to get the most out of your car when it comes time to sell it or trade it in, then completing a repaint is a smart thing to do. Repainting a car that is not riddled with body damage often costs much less than the amount you will get out of it on the other end when selling, making painting a smart investment.
New look
Perhaps you're just bored of your car or truck's current look. A repaint allows you to give it a brand new appearance. You can choose the color, or colors, and you can always talk to the auto painting facility about adding stripes or other graphics.
Auto Restoration purposes
Some vehicles simply deserve a repaint. If you are in the process of restoring an older vehicle it will eventually become necessary to complete a repaint. A professional auto paint shop can conduct factory auto painting that will match the color and appearance of your car the day it rolled off the assembly line.
Auto painting is a great gift
Want to completely surprise your loved one? Repaint their vehicle! It isn't quite the same as getting a brand new car, but it will still blow their minds to walk out in the garage and see a beautiful looking vehicle.

Auto painting can be done at any time and isn't just a part of auto body repair. If you're interested in auto painting in Columbus, OH, reach out to Keen's Body Shop. We repair and paint all types of cars and trucks. To learn more or to request an estimate for strong>auto body service in Columbus give us a call at (614) 420-2404 today.