FAQs: Collision Repair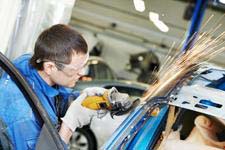 Following a car accident it is likely that you are going to have numerous questions about what to do in the aftermath of the wreck. The following frequently asked questions will give you a quick overview about how the incident should be handled. If you have any additional questions about collision repair or its processes be sure to speak with a representative a qualified local auto body repair center.
What should I do if I am involved in a wreck?
Immediately after an accident it is important to analyze yourself and others for injuries. If necessary call an ambulance right away. If everyone checks out move the vehicles to the side of the road, if possible. At this point you will want to exchange information with other drivers involved and begin taking photographs and collecting witness statements, as these will be important for your insurance claim.
Is a police presence required at an accident scene?
While it isn't legally necessary, it can be beneficial to request a police presence following an accident. This ensures nobody leaves the scene prematurely and it gives you an opportunity to fill out a police report.
Should I contact my insurance before I leave the accident?
Yes. Before you leave make sure you contact your insurance company to ensure you are within their regulations for filing an auto accident claim.
Do I have to go to the auto body shop suggested by my insurance?
It is likely that your insurance carrier will recommend an auto body repair shop or two for you to take your damaged vehicle to. You do not have to use their suggestions. The choice is ultimately up to you, so choose wisely!
How much does auto body repair cost?
The cost of repair will depend on the type of damage received as well as your personal insurance policy. An estimate will be completed before repair work begins to give you an idea of the cost.
How will my car be repaired?
This also depends on how your car was damaged. There are many different method of auto body repair for individual types of damages.


Where can I get auto body repair in Columbus, OH?
If you are in search of expert auto body repair in Columbus reach out to the team at Keen's Body Shop. We strive to provide the highest quality services at our two Columbus collision repair shop locations. Give us a call at (614) 420-2404 to learn more about what we do or to request an estimate for collision repair in Columbus.