5 Reasons to Choose Paintless Dent Repair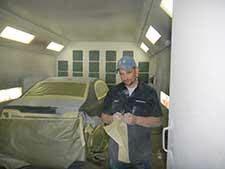 Perhaps you've been avoiding fixing small dents because it just doesn't seem like it's worth the time or money to repair them. If so, paintless dent repair could be an option worth considering. As part of this process, the service tech will use a special set of tools to work the dent out from inside the vehicle paneling. This makes the costly and time-consuming process of painting unnecessary. While not every dent will qualify for paintless dent repair, smaller ones often will. Here's a look at five benefits of paintless dent repair.
Efficient Repairs
This process allows the original paint job to stay intact, which means there won't be any concerns with precise color matching. Modern auto paints regularly use technology that prevents the paint from becoming blemished when dents occur, which makes paintless dent repair all the more worthwhile.
Increase Resale Value
When it comes time to sell your car, there's a good chance that pictures will be posted online. When a vehicle has cosmetic issues, it's more likely that someone will quickly click to the next ad. And, if the vehicle has dents, prospective buyers could have reservations about how well the car has been taken care of, and be less likely to pay the asking price. By keeping your vehicle's exterior in great shape, it's more likely that you'll be able to fetch top dollar.
A Greener Repair Option
Because the painting process is bypassed, there are no harmful chemicals released into the atmosphere. Also, there is no concern about paints or thinners contaminating the groundwater.
Save Time
When the processes of color matching and painting are skipped, your car can be returned to you in a more timely fashion.
Save Money
When painting isn't required, money is saved on both labor and materials.

If you're in need of auto body repair, be sure to get in touch with a reputable body shop. For auto body repair in Grandview Heights, Bexley, and Columbus, OH, the experts to contact are at Keen's Body Shop at (614) 420-2404. Feel free to stop by Keen's Body Shop to see if your dent will qualify for paintless dent repair!