5 Classic Custom Paint Job Options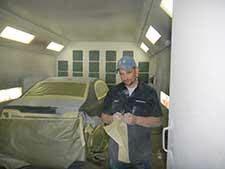 For both personal and company cars, a custom paint job is a great way to make your vehicle stand out from the crowd. If you're an automotive enthusiast who likes to show off your vehicle at car shows, then a custom paint job could help garner attention at such events. For business vehicles, a custom paint job can increase visibility of your company logo. When you need a custom paint job, make sure you entrust the work to an experienced auto painting professional. Here's a look at five options for custom paint jobs.
Flames
If you have an old school hot road that you want to give new life, then flames could be a great way to rejuvenate it. Vintage red and orange flames are a time-tested favorite. But for a more subtle look, you could with "ghost flames," which feature blues and purples.
Racing Stripes
Racing stripes are usually painted in two thick lines spanning the center-length of the vehicle. This is a popular look for classic American muscle cars, like Corvettes, Camaros, and Mustangs. This creates an appearance that is both sleek and strong.
The Fade
For the fade, the technician completes a paint job that seamlessly transitions from one color tone to a different one. While this paint job is often done front to back, it can also be done top to bottom. This is a popular look for import cars that are kept low to the ground, as well as lowrider trucks.
Pearlescent
By way of light refraction, a pearlescent paint job will differ in appearance depending on the angle it's seen from. For those who love to showcase their vehicle in local car shows, a pearlescent paint job is a great way to turn heads.
Metallic Paint
Because powdered metal is mixed up into the paint, a metallic paint job will make your vehicle literally sparkle.

If you need auto painting, be sure to bring your vehicle to a reputable body shop. For auto painting in Columbus, OH, contact the experts at Keen's Body Shop at (614) 420-2404. Keen's also specializes in truck & fleet body work in Columbus, OH. Feel free to give Keen's Body Shop a call today to request a free quote for any of your collision repair or auto painting needs!