Keeping Up Appearances: Fleet Vehicles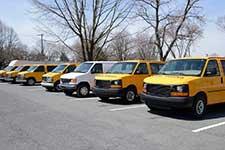 For many people, when they buy a work truck they do so with the understanding that it is likely to get dinged, scratched and dented while performing all of its duties. But you have to remember your work trucks are mobile billboards for your business and the way they appear sends a message to potential customers. Take a good look at your fleet and based off just the aesthetic condition of the vehicles, think to yourself, "Would I work with that company?" If the answer is a soft yes or a hard no, it's time to schedule commercial auto body repair.
Show Off Your Attitude
Properly maintaining your fleet vehicles' appearance will speak volumes for the work you do. To a customer, the condition of your equipment is likely a sign of the quality of work you will be performing. If your cars and trucks are beat up a customer may pass up on your business, even if the actual work you do complete is top of the line. A smart investment for those who have vehicles that are used and abused is to have fleet vehicle auto body repair completed in order to keep it looking sharp!
First Impressions
Commercial auto body repair is a great way to ensure that your customer's first impression is one of excitement to be working with your business, not fear. When you roll up in a truck that looks brand new, even a great looking truck that is several years old, the customer will know that you care about your brand and your craft.
Rolling Billboard
A good looking truck with a bright and shiny logo is easier to remember than one that is faded or cracked as well. This means that by providing your truck with the aesthetic maintenance it needs, you'll ensure people remember who you are as you drive by.

For complete fleet vehicle auto body repair in Columbus, OH, including frame straightening, vehicle painting, dent removal, scratch repair and more contact Keen's Auto Body. Our team of experts will help you restore your work vehicles, ensuring all potential customers remember your car or truck. To schedule commercial auto body repair in Columbus, OH, give us a call at (614) 420-2404 and we'll be happy to help.