Must Know Info about Auto Body Repair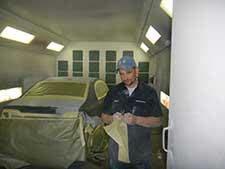 If you have been involved in an accident you're likely worried about having to find an auto body repair shop that can handle the damage as well as work with your insurance company to get the job covered. First things first, it is important to remember that it is your choice which shop works on your car, not the insurance company's. They may have a list of recommended shop that they would prefer you take your vehicle to, but by no means is it necessary. So as you search for a collision repair shop to take care of your car, truck or SUV be sure you're aware of what you're really searching for.
Auto Body Repair is an all-encompassing term
When a shop advertises auto body repair they really want you to know they do it all. There are many aspects of auto body repair, which include:
Frame Repair - The frame, or on new vehicles, the unibody, is what supports the vehicle's body, engine, transmission and other components. If it is damaged in any way it can lead to problems with safety and maneuverability. A collision repair shop will restore the frame to its factory specifications.
Dent Repair - Collision repair includes small repairs as well, such as fixing dings and dents that occurred in the accident.
Panel Replacement - A collision repair technician will be able to tell you if you're better off simply replacing the damaged body panel, instead of trying to spend time repairing it. This may be the case for doors, fenders, hoods and other parts of the car that can be easily removed.
Auto Painting - To top off the repair process some cars need to be painted, either entirely or just in certain parts.
Auto Body Repair should always be completed by a certified technician
What is very important is that you leave repairs to a certified technician. This will result in beautiful repairs that will appear as if they never happened. When trying to conduct repairs at home using take-home kits, you are more likely to do more harm than good.

From dings and dents to complete collision repair, if you need auto body repair in Columbus, head to Keen's Body Shop. Our expert auto body repair technicians will ensure your car is looking its very best and driving like new when it leaves our shop. To learn more, or to request an estimate for auto body repair in Columbus, give us a call at (614) 420-2404 and we'll be happy to help.