Common Types of Collision Repair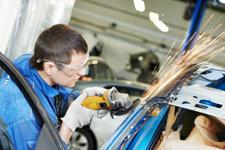 When it comes to getting your vehicle fixed after an auto accident it is important to work with a qualified collision repair shop to ensure everything is fixed correctly. Depending on how your vehicle is damaged a technician may take a special approach to fixing the car. Whether you've been involved in a big accident or your car has had a run in with a shopping cart, the following techniques are a few of the most common that a professional technician may use to fix the damage.
Paintless Dent Removal
If your vehicle suffered a dent that did not hinder the paint it is likely that paintless dent repair can be conducted. This is a money-saving repair method as it prevents the need to repaint the car. It is performed by a skilled technician who has trained in this practice.
Color Match Painting
When only a portion of your vehicle was damaged why should you repaint the whole thing? Color match painting technology means only the damaged area will need to be resprayed, and it will match the existing paint perfectly, while saving you money.
Panel Replacement
In some instances, the simplest way to fix auto body damage is to replace the panel or panels that took the brunt of the impact. This could mean replacing a trunk lid, door, fender, bumper, hood or otherwise.
Ding and Scratch Repair
Small dings and scratches have a couple of ways of being repaired. If there is damage to the paint caused by a ding it may be filled with small amounts of filler and painted over. Scratches can often be buffed out, but if they are deep in the paint they may require filler as well.
Glass Repair
If auto glass was shattered or cracked during a wreck it will need to be replaced. A professional auto body shop should be able to install a new windshield, door glass or any other broken window.
Automotive Frame Repair
The frame supports the weight of engine, transmission and other vehicle components, so it is critical that it is restored to its factory specs after an accident so there is no disturbance in the weight distribution. Frame repair generally includes laser straightening and occasionally cutting and installing new frame components.

When you need auto body repair in Columbus reach out to Keen's Auto Body at (614) 420-2404. Our expert auto body repair technicians will have your vehicle looking good as new in no time. Give us a call to schedule an initial estimate for professional collision repair in Columbus, OH, today.