What is Auto Body Panel Repair & Replacement?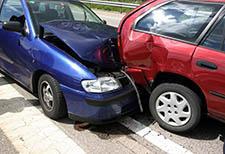 Following an auto accident you will probably find yourself at an auto body shop awaiting an estimate that details the cost of repairing your car. When talking with a technician about the services your car requires in order to be returned to its pre accident condition they may say something about auto body panel replacement. This is the act of completely replacing a portion of your car or truck's body instead of repairing the damage done to it. They may need to do this if the damaged area is beyond repair if using conventional repair techniques. Sometimes replacing the panel will be faster and less expensive than repairing the damage. These are some of the common types of auto body panel replacement done at auto body repair shops.
Hood Replacement
If a hood has been dented or crumpled in a front impact it will likely need to be replaced. You may also need a new hood if the current one has dented from something falling on it.
Trunk Lid Replacement
Trunk lids, similar to front end hoods, will likely need to be replaced if they become damaged. This part is easy to find and replace for most cars and trucks.
Bumper Replacement
Most wrecks will result in some type of damage to the bumper or bumpers of a vehicle. If the bumper has been subject to a hard impact there is reason to believe that your vehicle will need a new bumper installed.
Fender Replacement
The fenders are body panels that start at the front of the doors, go over the front wheels and often wrap around the headlights. Occasionally these are referred to as front quarter panels.
Quarter Panel Replacement
Quarter panels are a second term for fenders, however they generally refer to the back part of the vehicle. These start at the rear of the doors and go over the back wheel wells and often wrap around the real lighting assembly.
Door Replacement
A door that has become badly damaged or misaligned due to an impact will probably need to be completely replaced to restore its functionality. This is because there are many electrical and mechanical parts and inside door panels.

Auto body panel replacement is a normal part of auto body repair and is done in an effort to save the customer time and money. If your car has been involved in an wreck and you need an estimate for auto body repair in Columbus, OH, reach out to Keen's Body Shop. Our team is highly skilled at all aspects of collision repair. Give us a call at (614) 420-2404 to request an appointment for quality collision repair in Columbus today.