Is Paintless Dent Repair Right for My Vehicle?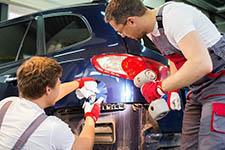 Accidents happen, as you've likely just found out. It always seems like fire hydrants and fences are just running right out into the road. But at least these days when you car suffers a small dent you most likely won't have to worry about getting the area or even the whole car repainted to hide the evidence. Paintless dent repair is a popular option completed at top notch auto body shops that can remove smaller dents and dings without worrying about having to repaint.

An auto body technician will use a set of special tools that they will use to tap out the dent from behind the panel. While many kits claiming to remove vehicle dents with ease are sold at local auto parts stores they most often do not work as well as they are advertised. To be able to completely remove a dent takes lots of precision and skill, which is why you should only trust a trained auto body professional to do the job.

Paintless dent repair can be often be completed on dents behind door panels, trunk lids or under the hood. Other locations may allow for it too, but it all depends on the size and shape of the dent and if it has already hurt the paint or not. Ask a professional auto body tech to make the call if PDR is right for your situation. It works best with modern paint finishes, so if your paint is already scratched or chipped it will require a touch up.

When a technician suggests trying paintless dent removal you can expect it to work flawlessly about 90 percent of the time when performed by a certified professional. Which brings us to our next point. Don't always trust the tent stands on the side of the road that state they can complete PDR. For the highest quality auto body repair it should be completed by a technician at a professional auto body shop.

To see if your car qualifies for paintless dent removal in Columbus head to Keen's Body & Fleet. We strive to provide the highest quality auto body repair in the area! Give us a call at (614) 420-2404 to request more information or to get an estimate for auto body repair in Columbus, OH!