5 Steps to Follow after Hail Damage to Your Car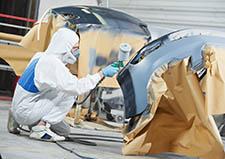 Sometimes it really does come down like golf balls. The next time that the skies open up and hail comes beating down, it'll be best if your car can take cover. But if you do get stuck out in the storm and your vehicle suffers body damage, you'll want to get it repaired quickly so that rust doesn't have the opportunity to set in. Here's a look at five steps to take after your car has been damaged by hail.
Contact Insurance Company
If you have comprehensive insurance, then you should be covered for hail damage. And because hail is considered an act of nature, you shouldn't be hit with a rate increase after filing a claim. Your insurance company might suggest you go to a particular shop, but it's important to keep in mind that you can take your vehicle where you'd like for the repairs.
Get Repairs Done ASAP
If you wait a long time to get the repairs, the damaged area may start to rust. But by promptly getting your car into the shop, you can prevent this from happening.
Choose Paintless Dent Repair if Possible
For dings and dents of a smaller size, paintless dent repair is a great option. As part of this process, the service tech uses specialized tools to fix the dent from the inside of the car's paneling. This means that the process of painting can be avoided.
Leave the Work to an Experienced Professional
While a do-it-yourself spirit is certainly admirable, if you want the repairs done flawlessly the first time, for the vast majority of folks it'll be better to bring the vehicle to a reputable shop instead of trying to tackle the repairs at home.
Avoid Roadside Tents
Sometimes, would-be repairmen will chase hail storms and set up tents with the hope of cashing in quickly as the storm progresses. However, it could be hard to hold these folks accountable if the work is less than exemplary.

If you're in need of auto body repair, be sure to get in touch with a reputable specialist. For hail damage repair in Columbus, OH, the experts to contact are at Keen's Body Shop at (614) 420-2404. Feel free to give Keen's Body Shop a call today to request a free collision repair quote in Columbus!