Follow these 5 Steps after an Auto Accident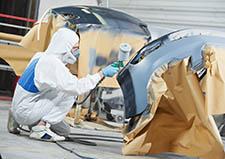 Immediately following a collision, the most important thing is that there are no significant injuries. After everyone has been checked out and the dust has settled at the accident scene, you'll soon need to find a collision center that you can trust to fully restore your vehicle to its pre-accident condition. Here's a look at five steps to take following a car accident.
Check for Injuries
In the aftermath of a collision, the first focus should be on checking the physical well-being of all involved. At this point, there's no need to start blaming anyone for the accident. Rather, it's far more important to see if anyone needs immediate medical attention. It's also crucial that you keep in mind that injuries sustained in car accidents often don't become apparent until later on. Therefore, if it seems like there's even a sliver of a chance that an injury has occurred, it's worth seeking medical assistance.
Call the Police
The arriving officers can help with determining which driver was at fault. The police report could ultimately serve as valuable evidence.
Collect and Safely Store Evidence
Assuming you're in a physical condition that allows you to do so, you'll want to snap photos of any damage, along with driver's licenses and other documents that could be used for insurance or legal reasons.
Contact Insurance
It'll be best if you can do this while still at the scene because the insurance agent can check to make sure that you've documented everything necessary. Then, you'll send all useful documentation to your insurance agency.
Bring Vehicle to a Reputable Auto Body Shop
While your insurance might suggest a particular shop, you're free to go wherever you choose. This is an important decision and you'll want to make sure that you entrust the work to a shop that has built a strong reputation in the community for providing top-quality repairs that will help to keep you protected in the event of another accident in the future.

If you're in need of collision repair, be sure to get in touch with a reputable body shop. For auto body repair in Grandview Heights, Bexley, Obitz, and Columbus, OH, the experts to contact are at Keen's Body Shop at (614) 420-2404. Keen's also specializes in truck & fleet body work in Columbus, OH. Feel free to give Keen's Body Shop a call today to request a quote for any of your auto body needs!