When is windshield replacement necessary?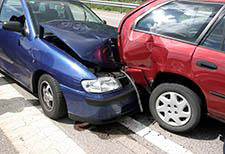 If your windshield is cracked or chipped, your field of vision can become compromised, which could create a significant safety hazard. Blemishes can make it more difficult to see looming roadway dangers, potentially reducing your reaction time to such threats. This is particularly concerning during periods of heavy rain or snow.

You'll also want to be mindful of the fact that your windshield supports your car's roof. In the event of a rollover accident, a cracked windshield has a greater probability of giving out, which could make it more likely that your roof caves in. A chipped or cracked windshield should promptly receive a professional's attention. Here's a look at five common causes of windshield replacement.
Cracking
Cracks that are more than five inches long typically mean that windshield replacement will be necessary.
Rock Chips
If the rock chip's diameter is larger than a quarter, then there's a good chance that your windshield will need to be replaced. Smaller chips can often be repaired, but it's important to be proactive about getting to the shop because, if left unaddressed, small rock chips can grow to the size that windshield replacement becomes needed.
Heavy Scratching
An extensively scratched windshield can greatly reduce visibility and make you more prone to roadway hazards.
Windshield Was Poorly Installed
If your windshield was installed improperly, it could be worthwhile to have a true professional do a reinstallation. This will help to ensure that your windshield isn't going to compromise your safety.
Damage Caused by Extreme Weather
When the thermometer bottoms out, chips and cracks are liable to become strained and grow larger---to the extent that the windshield needs to be replaced.

If you're in need of windshield repair or replacement, be sure to get in touch with a reputable body shop. For auto glass repair and replacement in Columbus, OH, contact the experts at Keen's Body Shop at (614) 420-2404. Feel free to give Keen's Body Shop a call today to schedule an appointment for any of your auto body needs!

Posted April 12, 2020