5 Reasons to Get New Paint Jobs for Your Fleet Vehicles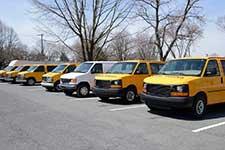 While you might understandably prioritize your fleet vehicles' mechanical health, for a number of reasons it's also important to keep their exteriors looking great. Your trucks and vans are highly visible to the community and you want them to create a positive association with your company logo. For fleet vehicles that are faded or chipped, new paint jobs can can make your vehicles really shine. You might also consider custom paint jobs that can draw attention to your logo. Here's a look at five reasons to get new paint jobs for your fleet vehicles.
Company Pride
When your vehicles look sharp, there's a good chance that your employees are going to take more pride in them and take better care of them.
Prevent Rust
Your fleet vehicles could be prone to rust if in the past they received poor paint jobs. In such a scenario, you'll want to visit a reputable body shop that can expertly take care of the rusting and then provide top-notch paint jobs.
Return to Factory Condition
Work trucks can take a beating, in both the interior and exterior. A fresh paint job, along with a bit of dent repair, can work like an automotive fountain of youth.
Custom Paint Job
By choosing a custom paint job that highlights your company name, you can draw the public's eyes to your business.
Increase Resale Value
When the time finally comes to sell your fleet vehicles, it's going to be beneficial if they look good to prospective buyers. Used vehicle sales are commonly done online, and if the photos look bad, potential buyers are likely to click onward to the next ad.

If you're in need of auto painting, be sure to get in touch with a reputable body shop. For auto painting in Grandview Heights, Bexley, Obetz, and Columbus, OH, the experts to contact are at Keen's Body Shop at (614) 420-2404. Keen's specializes in truck & fleet body work in Columbus, OH. Feel free to give Keen's Body Shop a call today to request a quote for any of your collision repair or auto painting needs!