How to Get Auto Body Repair After an Accident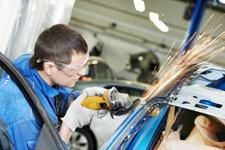 Few things are as common and as scary as being involved in an auto accident. Every time you enter the roadway you put yourself at risk of being involved in a collision. Thankfully, modern vehicles are incredibly safe, which means less and less injuries are reported as a result of accidents. Safety, however, doesn't stop your car from acquiring damage. If you have been involved in an accident and need auto body repair be sure to follow these steps.
At the scene of the accident
There are a few things that you should do before you leave the scene of the accident to ensure that the situation is properly taken care of.
Call 911 - Immediately following the accident be sure to check for injuries. If there are any call 911 immediately. In many circumstances, even without injuries, it is a good idea to call 911 to request a police presence. This will also give you the opportunity to file a police report, which can be important when making an insurance claim.
Gather Evidence - There are a few ways to gather evidence, which will help you during the insurance claim process. Take photos of the accident scene using your smartphone. Be sure to take close up photos of damage, as well as pictures of the overall accident scene. Along with your police report, it is a good idea to request witness statements. You will also want to collect information from other driver's involved, including insurance info.
Contact Insurance Company - Before you leave the scene contact your insurance company to begin the claim process. They may request you take additional steps before you leave the scene.
Find an Auto Body Repair Shop
It is likely that your insurance company will provide you with a list of auto body shops that they prefer you use. Remember though, you can select the auto body shop that you bring your car to and your insurance must follow through on the policy. When searching for an auto body shop be sure that they are AAA approved, offer free estimates and can provide you with a warranty for completed services.

If you are looking for a quality auto body repair shop in Columbus, OH, reach out to Keen's Body Shop. Our team of expert auto body repair technicians will return your vehicle to its pre-accident condition. To request a free estimate for collision repair in Columbus, OH, give us a call at (614) 420-2404. We would be happy to work with your insurance company.