Simple Ways to Prevent Auto Body Damage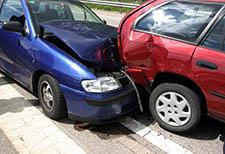 If you take pride in your vehicle you likely want to do everything in your power to keep it looking its absolute best, which means you'll do anything to avoid minor auto body damage at all costs. While it's impossible to prevent all types accidents there are definitely a few things you can do in order to lessen the chances of a scratch, dent, ding, or something else happening to your vehicle's finish. Follow these simple tips to ensure your car or truck looks great for years and years.
Parking Lot Precision
It seems like the most dangerous places for a vehicle is a parking lot. The constant threat of shopping carts, door dings, and the sheer amount of other vehicles moving around, puts your car at great risk of suffering some sort of visual flaw.To give you a car the best chance of survival try to find a spot in the back corner, this way there will not be as many people or cars around, but you may have to walk a bit further to your destination. But a little exercise never hurt anyone!
If Possible, Park Inside
If there's a parking garage at work, or a garage at your home, you should take advantage of it. Keeping your car out of the weather and out of sight of other threats will keep it looking better, longer. Severe weather such as hail can cause multiple dings all over your car, and maybe even crack a window. Wind may carry objects through the air, striking your car. Then of course if you live in suburbia you never know when the neighbor kid is going to hit that long ball right through your windshield.
Avoid Brush and Roads that are not Maintained
While you will likely only encounter these types of roads in campgrounds or in the mountains, you may occasionally find yourself having to head down someones gravel driveway for one reason or another. These types of roads often have brush protruding from the sides. Be sure to drive slow and do your best to avoid contact with any of the trees or bushes that are trying to shake hands with your vehicle's side mirrors.
Don't Dry Wipe
Never brush dirt of your car with dry towel or other garment. This will only moosh the dirt into the paint, causing minor vehicle scratches. Be sure to always wet the car down prior to wiping it off to remove any loose contaminants and always be sure to use an auto industry approved wash cloth.
Use Wax
One of the most overlooked tactics for protecting a vehicle's finish is using wax. This is probably because it actually takes a bit of effort to apply, but the results of using it are well worth it. Wax protects your car from dirt and dust and it gives your paint a glorious shine!

While you can do your best to avoid auto body damage, it doesn't mean it won't happen at some point. For expert auto body repair in Columbus visit Keen's Body Shop. We offer superior auto body repair for all makes and models, including fleet vehicles. Reach out to us at the location nearest you to schedule superior collision repair in Columbus today.