4 Common Causes of Auto Body Damage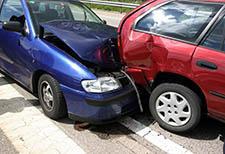 For as many miles as our cars and trucks travel it's a wonder they don't acquire damage more often, as there are potential dangers lurking around every corner of America's road system. The threats that are vehicles face are often forgotten until it is too late, when the occurrence of serious body damage takes place. In order to best try and prevent damage from happening you should be aware of what types of auto body damage can occur and why. That way, aside from being a defensive, attentive driver, you can do everything you can to protect the looks and safety of your vehicle. These are 4 common things that cause auto body damage on both commercial and personal vehicles.
Weather Related Auto Body Damage
Mother Nature can cause quite a bit of damage to paint finishes, and she has a lot of weapons to use in order to do so. The most common types of body damage that is related to weather includes hail, which can leave multiple dent dents all over the car and rust, which is caused by excessive moisture. In order to fix rust problems the damaged areas may need to be cut from the vehicle and replaced. The sun can also cause damage to the vehicle's paint. Excessive sunlight over many years can lead to fading or sun spots, which would require the car to be repainted.
Careless Acts of Others
While most accidents are due to someone's negligence, some are just downright outlandish. A runaway shopping cart, opening a door into the car parked in the next spot and so one and so forth can all result in minor damage that will likely result in a need for some sort of auto body repair.
Fender Benders
Low speed impacts, or fender benders as they are commonly referred to, can result in many types of body damage. Depending on the nature of the crash your car or truck may suffer from dings and dents or scratches. However there is also a chance that frame damage will occur, even at low speeds, which can make your vehicle dangerous and difficult to drive. Following any accident always let a trained collision technician assess your vehicle for damage.
High Speed Collisions
The worst type of accident is one that occurs at high speeds. These generally result in massive damage the the vehicle's body and frame and require extensive repair. To fully restore the vehicle's looks and safety body panels may need to be replaced, new glass installed and frame straightening conducted.

If your vehicle has been subject to some sort of accident, no matter what the cause, it is important to let a professional take on the job of restoring the car. For professional repair in Columbus, OH, reach out to Keen's Body Shop. We offer complete service collision repair for all makes and models. Give us a call at (614) 420-2404 to request a quote for auto body repair in Columbus.