How is Collision Damage Repaired?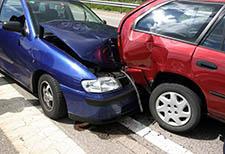 Our cars and trucks are regularly subject to the many things that could cause both major and minor body damage. Because our vehicles spend a majority of their life outside, on the road or in supermarket parking lots there is no limit to the amount of possible hazards that await them. Shopping carts, door dings, hail and of course auto accidents are all very real threats on a day to day basis. So how can a car that has suffered cosmetic damage look so good? Well, the repair process depends on the type of damage.
Paint Flaws
Paint scratches can appear from any number or causes, and unfortunately for some drivers they never even find out how they happened. Whether from a door ding, shopping cart or bumping into some other object, scratches can be very unsightly. Depending on the size and depth of the scratch it can be repaired a few different ways. Small scratches can usually be fixed without needing to repaint but simply rubbing it out with a special compound, but a larger scratch may require the use of body filler and repainting of the area.
Small Dings and Dents
Most smaller body damage occurs due to a run in with another car or some sort of stationary object. There are multiple techniques for pulling a dent, depending on the type of damage. If the paint hasn't been jeopardized then paintless dent removal may be performed by tapping the dent out from its backside. Larger dents that did damage the the paint may require an auto body technician to drill a small hole and insert a tool to pull the dent out, then fill the whole and spot paint the area. Other times a whole panel may need to be replaced using OEM parts.
Major Auto Body Damage
Auto accidents at any speed can cause major vehicle damage, including a bent frame, which decreases the car's structural integrity and overall safety. An auto body shop will use a computer aided machine to measure the current dimensions of the frame and pull it straight to return it to factory specifications.

Auto body damage that is left unchecked can eventually cause more problems for the car, so be sure to always have it fixed as soon as it occurs. If you need professional auto body repair in Columbus, OH, for any make and model of vehicle you will want to talk to the friendly team at Keen's Body Shop. Our state of the art auto body repair facility is staffed by experts who can fix any issue your car or truck is suffering from as a result of an auto accident. To learn more about our services or to request an estimate for quality collision repair in Columbus, OH, give us a call at (614) 420-2404 today.