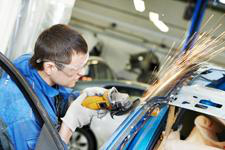 Keen's state of the art auto body repair shop in Columbus is equipped with modern tools that allow our talented technicians to completely restore damaged cars and trucks to factory specifications. Following any wreck be sure to tell your insurance company that you want your vehicle repaired by Keen's Body Shop. We guarantee all of the work we complete, ensuring your car is good as new in regard to its cosmetic appeal, safety and driveability. If you've been in an accident give us a call to request a free estimate for collision repair in Columbus!
Pre-Accident Appearance
At our Columbus collision repair shop we offer bumper to bumper auto body repair. This includes conducting any necessary glass or windshield repair, hood and door alignment, dent removal and frame reconstruction. Once the vehicle's body is smoothed and aligned to factory specs it is prepped for paint if it is necessary, to finish off that showroom appearance. When your car or truck leaves our shop you won't be able to tell that it was ever involved in an accident.
Unique & Fleet Vehicle Collision Repair
We are equipped to conduct painting and collision repair for emergency vehicles, heavy machinery and many other types of personal and commercial fleet vehicles, including:
Fire Trucks
Ambulances
Police Cars
Heavy Equipment
Rental Cars
Taxi Cabs

Electric & Hybrid Vehicles
Classic Cars
Salt Trucks
New Vehicle Auto Body Repair
Custom Auto Painting
Custom Auto Body Services
Glass Replacement
There are many times that glass will need to be replaced following an accident, including mirrors and windows. At Keen's we can replace all types of vehicle glass, including side windows, sliding truck windows, windshields, vent windows, glass light lenses and mirror glass.
Free Collision Repair Estimates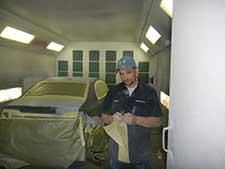 We utilize CCC Pathways Estimating Software to provide accurate auto body repair estimates. CCC Pathways Estimating Software is a collision-estimating solution designed with an integrated approach to the claims process. This software suite integrates collision estimating and digital imaging as well as claim-audit and re-inspection-management tools. This estimating software is utilized by various insurance companies, so we can exchange information quickly and easily with your insurance and appraisal companies.

Don't let a collision put your car out of commision for any longer than it needs to be. Our team works hard to get your car in and out of the shop in a quick manner so that you can get on with your life. Following an accident give Keen's Body Shop a call at (614) 420-2404 and let us complete expert collision repair in Columbus for your car or truck!

"I have been going to Keen's for a few years now and I cannot say enough good things about them. As a woman it is not fun dealing with cars - so many men are condescending and inappropriate and try to rip you off. Not at Keen's. I am always blown away by their kindness, integrity and affordability. Not to mention I enjoy supporting a local, family owned business. I highly recommend Keen's!!"
~

Sarah S.

"Keen were recommended to me by the AAA and they were fantastic. They are very customer centric and their work is excellent. If you have any body repairs or work I thoroughly recommend Keen's Auto Body Shop."
~

Peter E.