5 Reasons to Repair Rock Chips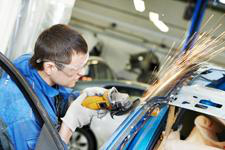 If you were recently driving behind a big truck and then suddenly a rock shot up and chipped your windshield, then you'll want to act quickly to get the damage repaired. When rock chips are left unaddressed, they're liable to grow in size to the point that windshield replacement is needed. Here's a look at five reasons why you should repair rock chips.
Optimal Visibility
To be able to safely navigate the road, you need to have a clear field of vision. Rock chips can compromise visibility. This can be particularly dangerous when a chipped windshield is combined with driving at night or in heavy rain. Also, it's worth noting that in Ohio you can get a ticket for driving with an obscured windshield.
Safety During an Accident
If your windshield is damaged, it could be more prone to shattering during an accident. This is particularly concerning with rollover accidents because a shattered windshield could increase the chance of the roof collapsing.
Fast Repair
It's often the case that a rock chip can be repaired in as little as half an hour, allowing you to quickly get on with your day, and with a clear field of vision.
Avoid Windshield Replacement
In most cases, the rock chip can be repaired if it is smaller than a quarter. However, if the repair is delayed, the chip could end up growing to the extent that full windshield replacement becomes necessary.
Insurance Coverage
It's common for insurance policies to provide coverage for rock chip repair. And by choosing a repair shop that is happy to assist you with navigating insurance issues, the process will be less stressful.

If you're in need of rock chip repair or windshield replacement, be sure to get in touch with a reputable body shop. For auto glass repair and replacement in Columbus, OH, contact the experts at Keen's Body Shop at (614) 420-2404. Feel free to give Keen's Body Shop a call today to schedule an appointment for any of your auto body needs!